the private dinner event
---
It's one of life's great pleasures: entertaining your friends with a lovely dinner party; where you provide the menu and the ambience, and pair it all with some good wine of course! Yet even the most accomplished gourmands among us can frequently feel overwhelmed with the pressure to be the perfect host; to deliver an unforgettable dining experience, whether it be for friends, family, or work colleagues.
Now imagine the best of both worlds: having your friends over for a memorable meal in the intimate setting of your choosing, but having all the cooking and cleaning taken care of by someone else. That's where we come in!
Our deluxe dining experience is the perfect way to create that special night for you and your friends, as you indulge in a delicious four- to six-course dinner inspired by Asian, Mediterranean, and Middle Eastern flavours.
Even if your culinary skills are more than up to the challenge, wouldn't you prefer to be doing something else? Treat yourself and your guests to an evening you will never forget!
Sit back, relax and leave everything to us. We'll arrive at your special venue, serve your drinks and prepare your feast and all this is done whilst you sit back, enjoy each other's company and the fine dining experience.
As an example your menu could include:
First course

Olive oil poached halibut with a chorizo croquette, saffron sauce, chorizo oil, chive oil and a crispy prosciutto chip

Second course

Ahi tuna with a coconut cilantro yam mash, siracha aioli, crispy asparagus and a soy ginger dressing

Third course

Local roasted duck breast with a cauliflower béchamel, triple cooked crispy chunky fries and possibly the best green peppercorn sauce ever

Fourth course

Pink grapefruit sorbet with fresh passion fruit and lime

Fifth course

Thai crab salad with crispy sushi rice, peanut chilli dressing, Thai dressing and crispy chicharron

Sixth course

Sticky toffee pudding with a salted bourbon toffee sauce and whipped cream
From initial consultation and menu planning – and we're more than happy to design a custom menu to fit your specific needs – to the cooking, service, and cleaning, we provide for your guests a truly exceptional dining experience.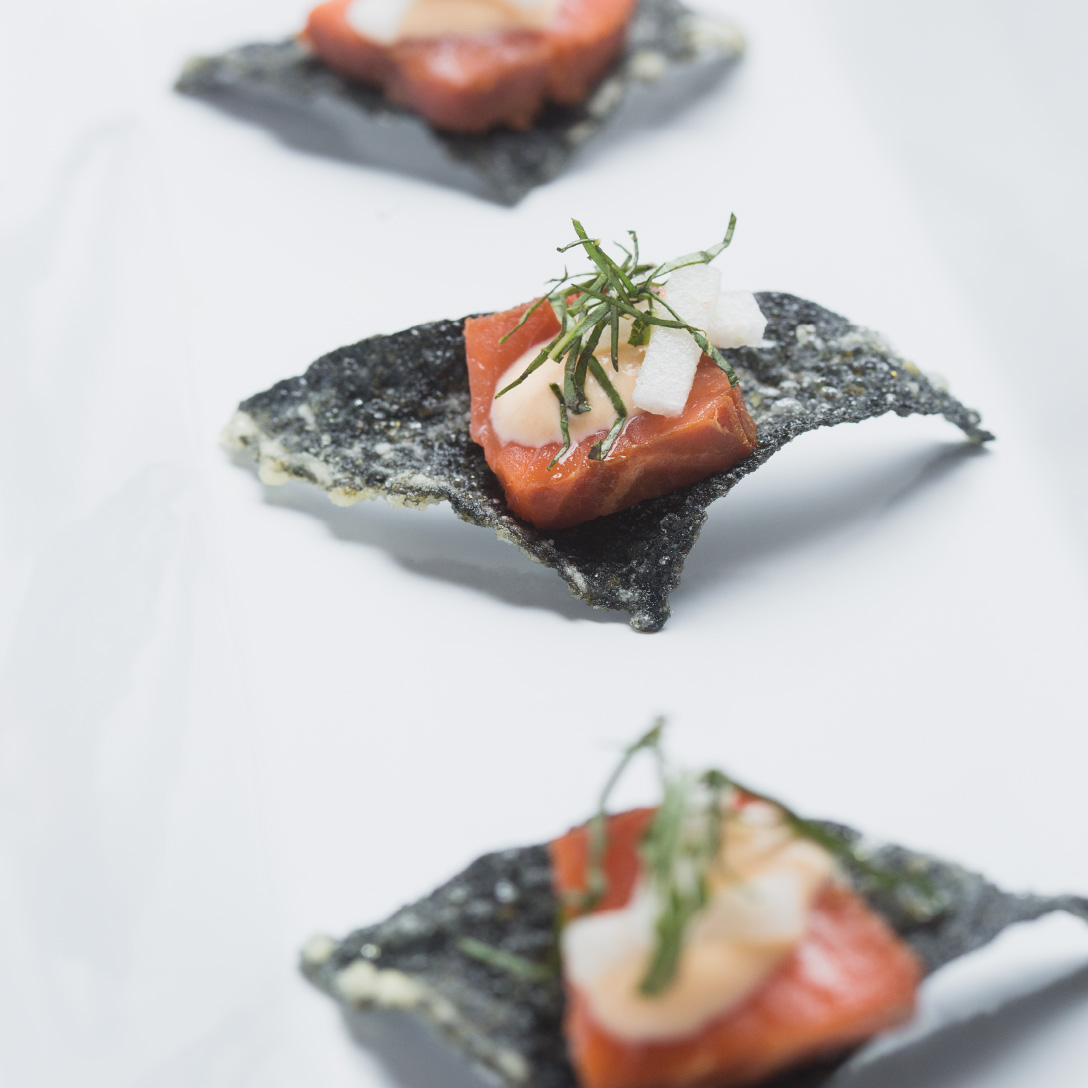 ---
For more info, including a no-obligation quote.
We look forward to having you dine with us!